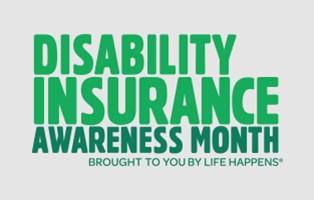 May Designated Disability Insurance Awareness Month
May is Disability Insurance Awareness Month, a time when the insurance industry comes together to do something about the enormous gap that exists between Americans' need for disability insurance and the actual coverage they have.
Why is disability insurance important?
Many people think that their home or their investment portfolio is their biggest asset.  In reality, their earning potential is usually their most important asset.
Everything from paying your mortgage to saving for a child's college education depends on your ability to earn money from your job.  The lost income from a serious illness or injury that prevents you from working can be substantial.
Sadly, two-thirds of working Americans (63%) could not make it six months before financial difficulties would set in—and 14% said they would have problems immediately, according to the 2020 Insurance Barometer Study by Life Happens and LIMRA.  An already unfortunate situation is often compounded by hefty medical bills that pile up on top of everyday expenses. Financial hardship from an injury or illness could lead you to burn through your savings, sacrifice your quality of life or even lose your home.
One of the best ways to protect your future earning potential and keep you and your family on solid financial ground is through a disability insurance policy.
Disability insurance steps in to help you cover expenses; it pays you a percentage of your salary if an illness or injury prevents you from working.  Depending on your policy, disability insurance covers your lost income for anywhere from a few weeks to your entire working life.
You most likely purchase auto insurance, homeowner's insurance and maybe life insurance to protect yourself and the ones you love.  Like each of these coverage options, disability insurance should be a part of your overall financial plan.
The main ways to get disability insurance are through your employer, or through a professional at The Hancock Group, Inc.  For more information and assistance contact us TODAY at (814) 944-8849 or click here.
What are the types of disability insurance?
There are two main types of disability insurance:
Short-term disability insurance

 replaces a percentage of your lost income for a brief amount of time—typically, between three to six months.  Many short-term disability policies are automatically offered by employers as a benefit to their employees.
Long-term disability insurance

 replaces a percentage of your lost income for an extended period of time.  That amount of time, which is known as the benefit period, can last anywhere from about a year to until you reach retirement age.  Long-term disability insurance usually replaces between 40% and 65% of your income.  Like short-term disability insurance, this coverage may be automatically offered by your employer.  You can also buy your own policy if your employer does not offer coverage (or you're self-employed) or to supplement what your employer offers.
Both long-term and short-term disability insurance have a waiting period before you can receive benefits after suffering an injury or illness.  It is known as the "elimination period" and you can think of it as a deductible measured in time instead of money.  The elimination period can last anywhere from a few days for short-term disability insurance to two years for long-term disability insurance.
In general, the cost of a disability insurance policy becomes less expensive the longer the elimination period is.  That's one reason why many people pair a short-term disability insurance policy with a long-term disability insurance policy.  A short-term disability policy lets you increase the elimination period of your long-term disability policy.  This can save you money on premium payments and give you needed financial support while you wait for your long-term disability insurance to kick in.
Many people assume government-provided disability benefits will help them weather a tough time, but those benefits are usually not enough to maintain your quality of life.  Likewise, employer-sponsored disability insurance is often not enough.
This reality underscores the importance of having your own disability insurance coverage in place.  The best way to learn more about disability insurance and to get a disability insurance quote is from a licensed insurance agent at The Hancock Group, Inc.  For more information and assistance in the matter contact us TODAY at (814) 944-8849 or click here.
Source: LIFE Happens